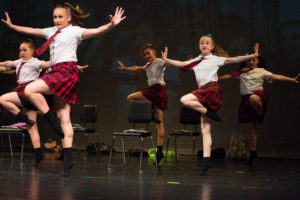 At the IPAC,  we stay one step ahead in the newest genes of Contemporary dance.   Regular visits from dance innovators  invigorate our staff and assist dancers in the latest techniques of Improvisation, Contact and Site Specific Works.  These techniques develop a responsive body, mind and personal style, utilizing a variety of music from Pop, Musical Theatre,  Big Band and Hip Hop.   This process  allows our future artists to build physical and emotional pathways to self discovery and choreography.
Tap class enables the development of rhythm, coordination, and personal style with a flair for the theatrical, allowing dancers to experience both  tradition and today's fashion.
Uniforms
Proper grooming is essential in creating the discipline for dance: therefore each student must have the proper dress and hairstyle before entering class. Students not complying will not be allowed to take class.
View Detailed Uniform Requirements »